The auditorium at Kerith Community Church is quite an imposing space with the underside of the pitched, fan shaped roof structure visible some 16 metres above the auditorium floor at its highest point. Due to its rather unusual shape however, a certain type of rain coming from just one particular direction would mysteriously breach the combination of Marley Eternit slates and lead lined gutters and rain water would land on the very centre of the auditorium stage. When an unfortunate auditorium user had to abandon their annual conference for the second consecutive year and having already completely re-slated the roof once before – the Kerith Centre management knew it was time for a change of roof covering.
Local architects Allen Associates decided that a seamless single ply covering was the answer, chose a Sarnafil roofing system from Owlsworth Roofing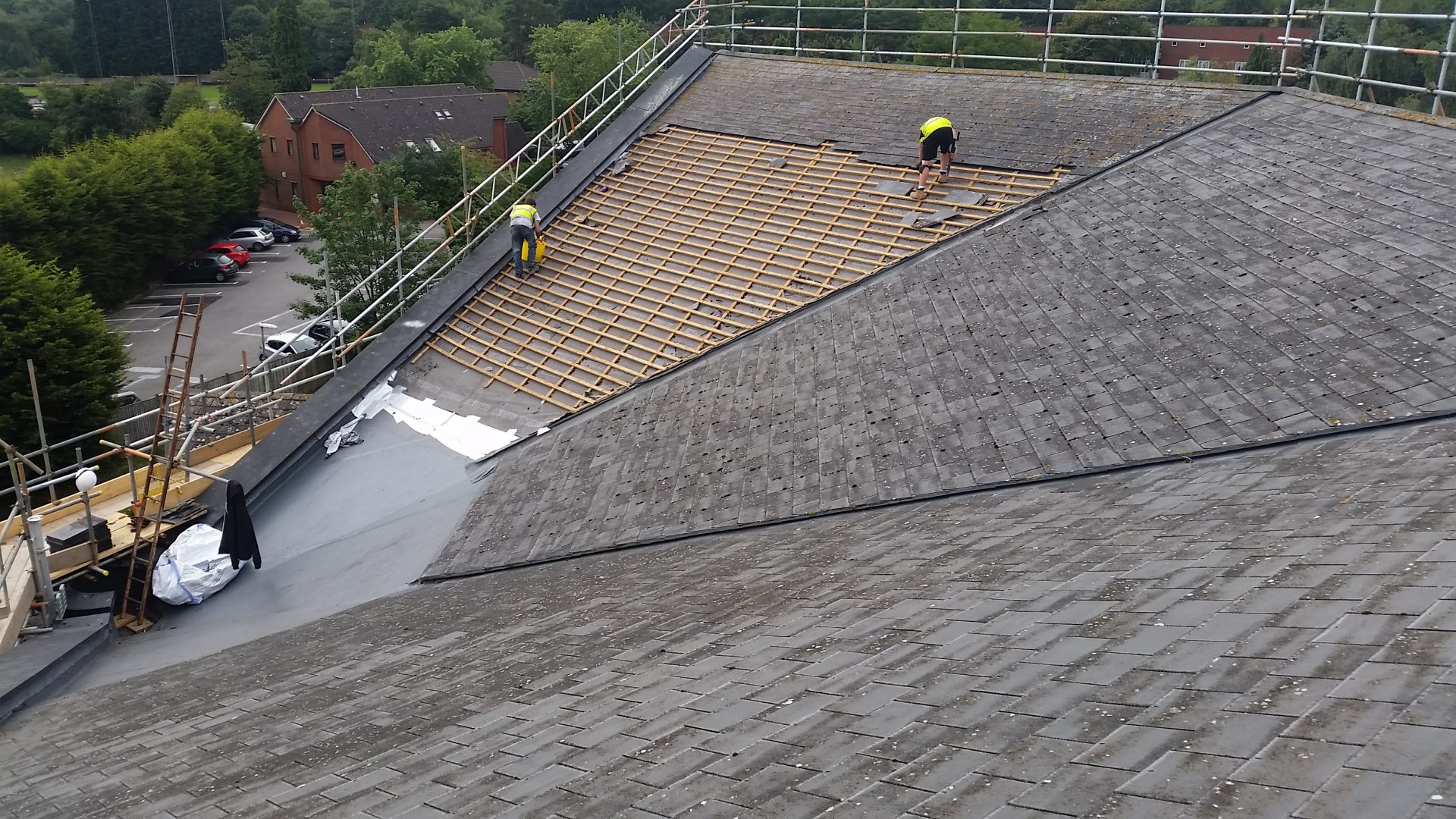 Details
Project name: Kerith Community Centre
Roofing Contractor: Owlsworth Roofing
Project Category: Existing Roof Refurbishment Project
Project Location: Church Road, Bracknell. RG12 1EH
Material used: Sarnafil G410-18ELF Lead Grey
The upper auditorium roof is completely surrounded by pitched roof areas without a single direct point of access to a suitable location for storage or waste disposal.
From the outset, it was necessary to ensure that not only the roofers were safe while they carried out their works but the scaffolders were safe while erecting the scaffold. A scaffold system was designed from the ground up to the lower auditorium roof for the sole purpose of providing a safe working area so that a second scaffold could be erected up to the upper auditorium roof.  To ensure that the works could be carried out safely the cost of Health and Safety amounted to 45% of the cost of the project.
The scope of works involved the complete removal of all slates, battens, counter battens and insulation, all secured to the slope with wide range of fixings designed from a belt and braces approach when the roof was re-slated in the recent past.  The direction of the fan shaped roof structure dictated that the means of access and egress for all stripped materials, new materials and personnel was down into the heart of the church into a central court yard, out through narrow corridors and around the building to the car park.
Being a pitched roof the angle of the slope (22 degrees) had an effect on the way on which the works could be carried out. It was possible to stand on most of the layers of both the old and new roof covering when it was dry but less so when it was wet – and the shiny and smooth Sarnavap 5000E SA (vapour control layer) offered no grip whatever the weather.
With the structural timber deck (50mm thick T & G softwood) also acting as the internal ceiling the client didn't want to see any fixings visible from below but the most suitable means of attachment for the insulation was to mechanically fix it.
Not only was the integrity of the structural deck critical to the technical performance of the roofing system, it was also critical for the safety of the workforce. Numerous pull out tests were carried out on the underside of the deck to ensure that the timber roof structure met the necessary requirements while during the process of stripping the roof the operatives involved constantly checked the condition of the timber from above for signs of deterioration
To add to the mix, there were a series of electrical cables in metal conduit resting on top of the timber deck that had to remain. Working around these cables hampered temporary weathering and installation of the vapour barrier and meant that the insulation needed to be fixed down carefully
Throughout the project, fixings needed to penetrate the timber deck sufficiently far enough to secure the roof covering but never to penetrate the underside as demonstrated by earliest feasibility testing.  Securement of the new cable based fall restraint system was carefully designed to ensure that nothing penetrated the deck. A series of timber boxes were secured to the deck so that the toggle bolts needed to secure the system's posts only penetrated the box and could not be seen from below
Finally, this was all to happen while life continued as close to normal as possible at Kerith Community Church and the building remained fully open and fully operational throughout the duration of the works