When the Arora Group decided to give the Gatwick Hilton a once in a generation refurbishment they turned to Owlsworth Roofing to install a Sika Sarnafil single ply membrane on the roof of the largest airport hotel in the UK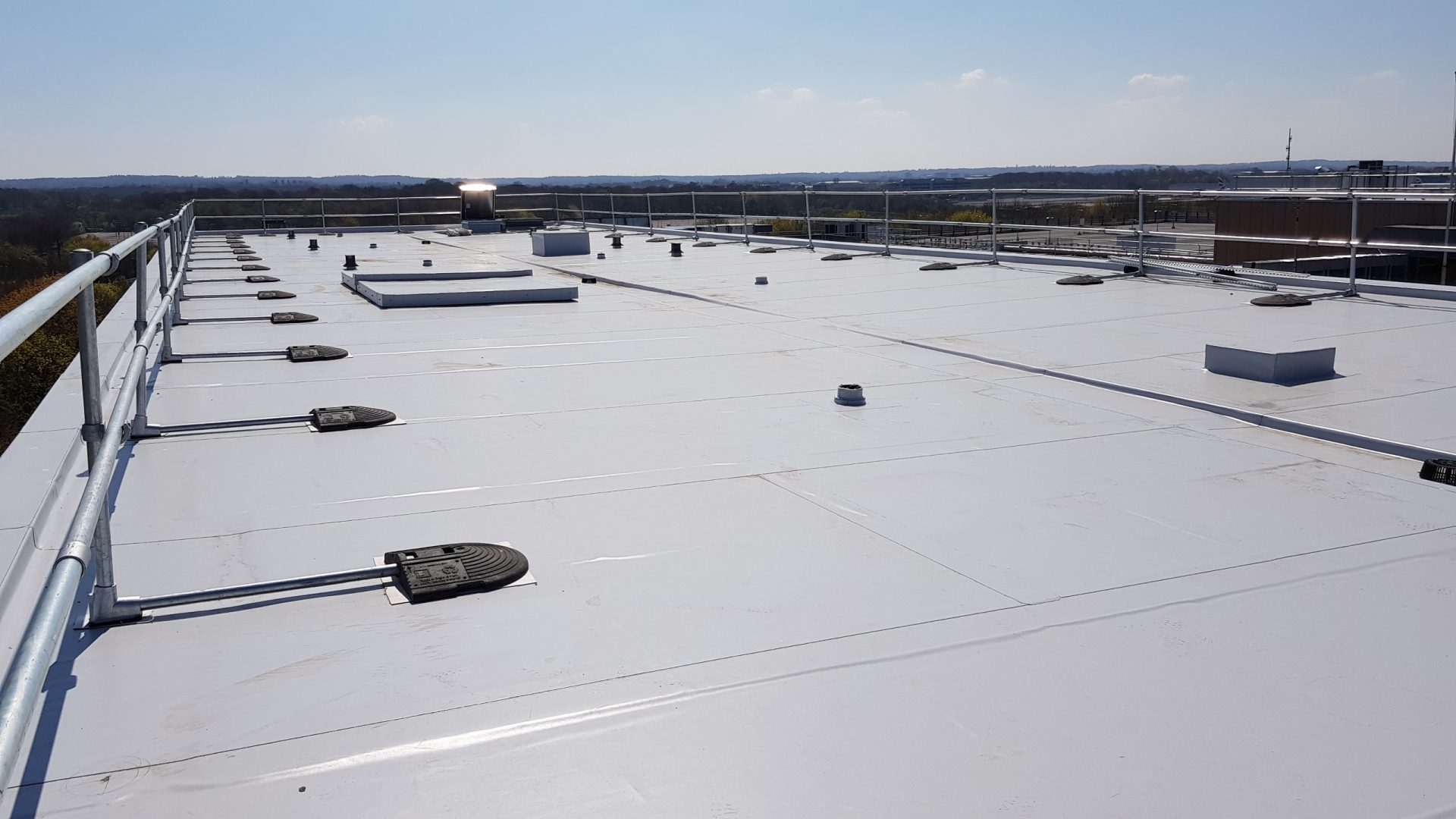 Details
Project name: Hilton London Gatwick
Roofing Contractor: Owlsworth Roofing
Project Category: Existing Roof Refurbishment Project
Project Location: Eastway, Gatwick, RH6 0LL
Material used: Sarnafil G410-18ELF Light Grey
During the planning stages of the Gatwick Hilton Hotel refurbishment it became clear that new air handling plant and machinery would need to be located on the roof. With some of the roof coverings as old as the 1980's building itself it was going to be necessary to install new coverings before the air handling plant was positioned. 
Owlsworth Roofing set aside the existing stone ballast, sent the old 50mm polystyrene insulation to landfill and swept clean the original asphalt roof coverings. Sika Sarnafil G410-18ELF was loose laid and hot air welded as the fieldsheet membrane with G410-15EL as the detailing membrane. 
The existing steel rails of the long condemned window cleaning track were sent for recycling but the cradle track support plinths were to remain so had to be weathered with the Sarnafil system.
Once the new Sika Sarnafil roof coverings had been carefully checked the roof area was protected with a layer of Sika Sarnafil G445-13 protection layer and insulated with 180mm of Kingspan GreenGuard extruded polystyrene and a Kingspan Aquadrain water infiltration reduction layer – all loose laid and held in place by re-using the original stone ballast.
Hilton London Gatwick was a record breaking project all round for Owlsworth Roofing with the following eye-watering quantities:-    
•
38 different roof areas
•
4,850m2 of warm ballasted roof areas
•
1,080m2 of adhered warm roof areas 
•
480m2 of mechanically fixed warm roof new build areas 
•
Approximately two and a half kilometres of roof perimeter
•
700 window cleaning cradle support plinths
•
Approximately 500 tonnes of stone ballast set aside for re-use and then the same 500 tonnes moved back onto the newly installed Sika Sarnafil roof coverings 
•
1,090 cubic metres of new thermal insulation installed 
•
Approximately 20,000 man hours between October 2019 and April 2021 
Long and complicated projects such as these can often lead to frayed relationships but as testament to Owlsworth Roofing's performance the Arora Group's construction arm Grove Developments have awarded us another prestigious flat roofing contract in the shape of their St John's Wood care home project, successfully ongoing at the time of writing in December 2021